Big toothbrushing and bathing fun!
Starting immediately, the personal hygiene routine is no longer a tedious task. With the Maus Dental Care Collection and the three 2-in-1 Solid Shampoo & Shower Bars from Hydrophil, Maus fans will now associate it with fun and environmental protection.
The big toothbrushing collection helps to reduce plastic consumption
With the products in the Dental Care Collection, Maus fans are fully equipped for their daily toothbrushing routine:
The environmentally friendly bamboo toothbrush makes for especially sustainable dental hygiene. The brush is vegan, the bristles are made of renewable resources and BPA-free, and the bamboo handle is biodegradable. The solvent-free varnishes used to color the handles, from the natural-paints manufacturer AURO, are also thoroughly ecological. For the sake of the environment, the toothbrush is also packaged plastic-free, in attractive cartons made from recycled cardboard.
The extra-soft bristles of this children's toothbrush are ideal for sensitive gums, and the small size of the brush head makes it well-suited for children 3 years and up.
Between brushings, the toothbrush cup featuring the Elephant is the perfect holder for the Maus toothbrush.
The Elephant cup is made of the innovative organic material ARBOBLEND® and is melamine- and BPA-free. ARBOBLEND® is derived from renewable resources including cellulose, natural waxes, and lignin.
The dental care set is perfectly rounded out by the children's toothpaste with a pleasant apricot flavor. Specially developed for baby teeth, the formula uses the medically recommended fluoride dosage of 1,000 ppm. The toothpaste protects against tooth decay and gently cleans children's not yet fully developed tooth enamel. Mild cleaning agents ensure gentle and effective plaque removal.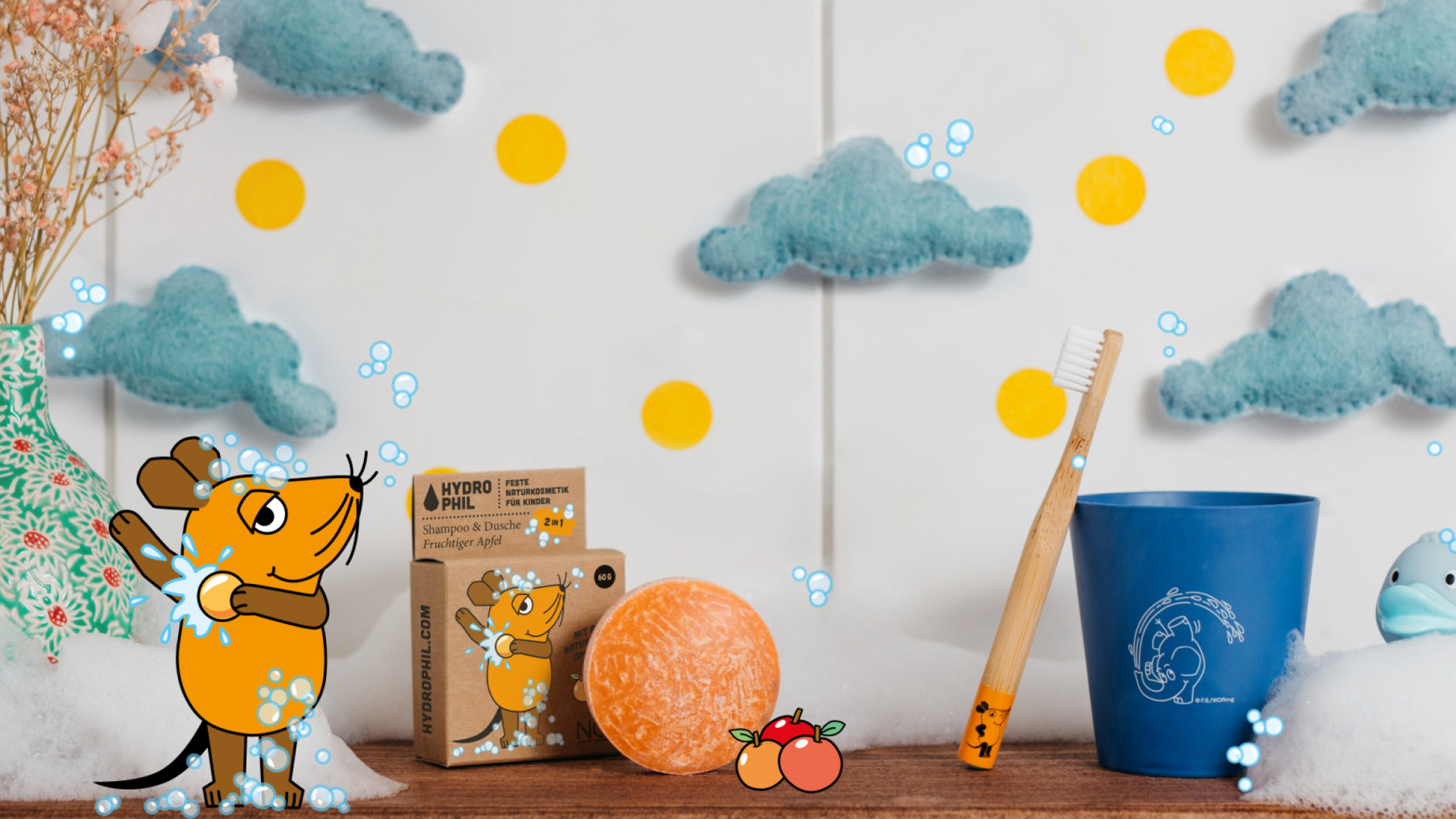 2-in-1: Solid Shampoo & Shower Bars from Maus, Elephant, and Duck
A fruity apple or sweet mango scent, or completely fragrance-free: in the attractive care line featuring the Maus, Elephant, and Duck, everyone will find their favorite.
The 2-in-1 Solid Shampoo & Shower Bars ensure thoroughly clean skin and hair. The Sensitive 2-in-1 Shampoo & Shower Bar with the Elephant is fragrance-free, extra-gentle, and very skin-friendly. It was specially developed for children's sensitive skin and hair.
The 2-in-1 Solid Shampoo & Shower Bars are certified according to the guidelines of the NCS (Natural Cosmetic Standard):
No microplastics
No underlying or applied GM technology
Contains no parabens, silicones, or phthalates
Only natural fragrances and plant-based extractants
No irradiation
In addition, the products are vegan, plastic-free, and climate-neutral.